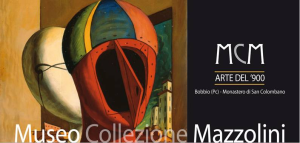 The museum
The Mazzolini Collection Museum, inaugurated on 23 November 2015 as part of the celebrations of Bobbio's patron saint, is part of the group of museums situated in the former monastery of Saint Colombanus. The exhibition starts with three rooms that tell the story of the collectors and the collection. The museum is named after Domenica Rosa Mazzolini, a nurse who loved art, and who donated nine hundred works of modern and contemporary art to the diocese of Piacenza-Bobbio in 2005, with the wish that they be displayed in a museum.
A shared passion
The collection is the result of two art collections: Rosa Mazzolini's personal collection and the huge collection she inherited in 1994 from the brother and sister Giovanni Battista Ettore and Federica Simonetti, medical doctors in Milan whom Rosa worked for as a medical assistant. The Simonettis' first acquisitions, for the most part gifts from patients, were paintings from the first decades of the 20th century, but following 19th-century traditions. It was the meeting with Rosa Mazzolini, who began to work in the medical studio in 1950, that sealed their interest in the art of our time; Ettore Simonetti got to know the artistic world of Milan and his home became a meeting place for artists and intellectuals who became his friends. In this way a collection was formed, marked by a great variety of pieces coming from many different stylistic movements. Many artists needing medical attention offered in exchange one of their works to the doctor. Among those who were found in the doctor's rooms were Ottone Rosai, Mario Sironi, Fiorenzo Tomea, the Pomodoro brothers, Antonio Recalcati and Massimo Campigli, who, in gratitude to Dr Simonetti, gave him a painting entitled Simonetta (1955) in his honour. From Giorgio De Chirico (eight of whose paintings are found in the collection) the doctor commissioned Esculapio proctologo (Aesculapius proctologist), a painting dedicated to the god of medicine, presented during a conference in Detroit in 1956. The doctor also requested Ippocrate rifiuta i doni (Hippocrates refuses gifts) from the artist, to underline the disinterested ethics of the medical profession; he also asked for the painting Piazza d'Italia.
There are also a considerable number of works by Paolo Baratella, Ercole Pignatelli and Renzo Izzi, who had his studio for a certain time in the village of Brugnello.
HOURS & ADMISSION 2022
The MCM Museum is now open only on Saturday and Sunday.
 Saturday: 3.00 p.m- 17.30 p.m. ; Sunday: 10.30 a.m -12.30;  3.00 p.m – 17.30 p.m.
The ticket office is open until half an hour before closing time.
To ensure optimal conditions, all visitors will be required to wear a mask
CLOSED on November, December, January, February
INFO:
mobile 351 7221207
mail : info@cooltour.it
PRICE Abbey Museum + Mazzolini Museum:
Full price ticket: € 6,00
Reduced price ticket: € 4, 00 (over 65, children from 7 to 14 years old, groups at least of 10 people)