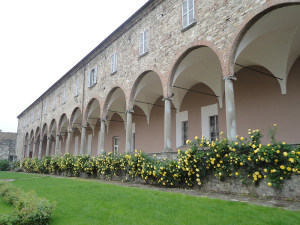 The first coenobium was built by Saint Columban in 614 near the old Saint Peter's Church, today the site of the Malaspina castle. The simple structure was modelled on Irish monasteries with wooden huts around a church surrounded by a fence. After the saint's death, the monastery developed into one of the most important monastic centres in Europe with a strong cultural, social, and religious influence. This was similar to Montecassino in north Italy. It had vast possessions in Emilia and Liguria all the way up to Lake Garda. Most of all, its scriptorium was famous along with the vast library. The library catalogue in 982 included over 700 codices, among which were the oldest manuscripts of existing Latin literature.
In spite the wealth and power of the monastery, the monks adopted the Saint Columban Rule and led austere lifestyles with fasting, prayer, work and daily study. At the end of the ninth century, in order to house the increasing number of monks and provide for the quantity of pilgrims that arrived from across Europe, a larger monastery was constructed. Built by Abbot Agilulphe, he chose to relocate the complex to its present site. The monastery was totally self-sufficient with many service areas that included guestrooms, mills, workshops, storehouses, ovens, stables, cellars, an infirmary and medicinal herb garden. In 1449, Benedictine monks arrived to replace the Columban monks. They began a restoration and expansion of the church and monastery.
The current complex dates from the end of the fifteenth century and beginning of the sixteenth century. The ancient proto-Romanesque church remains in part in the circular apse, a section of the clock tower, and as a component of the beautiful mosaic floor. Of the eleventh century monastery only the refectory remains which today hosts the City Museum.
During the Napoleonic period the abbey and its goods were abolished with the precious codices sold at auction. Today, a few of the ancient Bobbio codices are housed in other libraries such as the Ambrosiana in Milan, the Vatican in Rome and the archives at Turin.
The abbey is a large complex but only few parts of it are open to be visited. These include the hallway on the ground floor, the cloister, the church, and the two museums.